I am so excited for this month's Top 5 Tuesday topics: Hogwarts houses! I'll admit that I've been pretty down on Harry Potter ever since the second Fantastic Beasts movie came out. But no matter how annoyed I am at where the fandom is headed these days, Harry Potter will always hold a special place in my heart.
Every Tuesday this month, I'll be picking out five books for each Hogwarts house, and up first is Gryffindor.
Children of Blood and Bone by Tomi Adeyemi
The main character in this book is most definitely a Gryffindor. She's brave, even though everything going on around her seems bad as could be. She takes on the responsibility of making a dangerous journey in order to restore magic in the world.
Carry On by Rainbow Rowell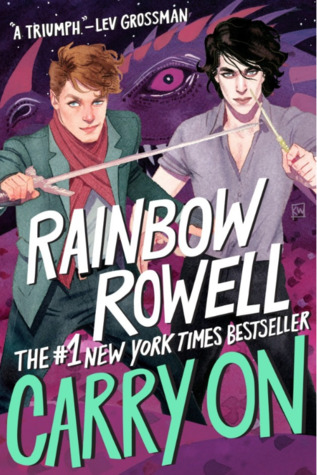 Does this one even need an explanation? If you haven't read Carry On and are a fan of Harry Potter, go read this book. It'll fill the void left by J.K. Rowling, and a sequel is coming soon!
While not specifically Gryffindor, the main characters remind me so much of the Trio in Harry Potter, that I can't help but imagine them hanging out in the Gryffindor common room.
The Hunger Games by Suzanne Collins
Katniss Everdeen is definitely a Gryffindor and a good role model for young women. She steps up to take the place of her younger sister in the Hunger Games, even knowing that she'll probably die. She does this believing that even if she doesn't make it, entering the Games will ensure that her starving family is provided for.
And even when she's training for the Games, she never gives up. She's up against kids who have trained for this their whole lives, and she works hard to get to their level.
I also think this book fits into a Slytherin / Ravenclaw / Hufflepuff list because she really does exhibit qualities of all four houses throughout the games. In the Games, she's cunning and does what it takes to survive (Slytherin), she's quick-witted (Ravenclaw), and she's loyal and a good friend to Rue and Peeta (Hufflepuff).
The Radium Girls by Kate Moore
The Radium Girls are definitely all Gryffindors. They all work hard at a time when many women didn't work at all. They fought against the companies that poisoned them, and they didn't back down. Even when it felt like there was no way they would win, they still fought. And if that's not brave, I don't know what is.
Not only that, but they all band together to fight. They were all incredibly brave women and what happened to them makes me so angry.
Yes Please by Amy Poehler
While not the traditional Gryffindor quality of bravery, Amy Poehler's Yes Please reminds me of the type of Gryffindors I always imagined when reading Harry Potter: the extroverts and the go-getters.
Amy Poehler definitely fits into that category. This book is a fun reflection on her journey into comedy and some of her memories at UCB, SNL, and Parks & Rec. When reading it, I got a definite Gyffindor vibe.