Lara Jean is having the best senior year.

And there's still so much to look forward to: a class trip to New York City, prom with her boyfriend Peter, Beach Week after graduation, and her dad's wedding to Ms. Rothschild. Then she'll be off to college with Peter, at a school close enough for her to come home and bake chocolate chip cookies on the weekends.

Life couldn't be more perfect!

At least, that's what Lara Jean thinks . . . until she gets some unexpected news.

Now the girl who dreads change must rethink all her plans—but when your heart and your head are saying two different things, which one should you listen to?
Rating: ★ ★ ★ ★ ★
Genre: YA Contemporary
Publication Date: May 2, 2017
Format: Kindle
Length: 325 pages
I can't believe I've finished this series. I read this whole book in a day, and it's been a while since I've devoured a book like that. Even though I'm satisfied with the way this series ended, I still want more.
The day after I finished this book, I rewatched the Netflix adaptation and fell in love with Peter Kavinsky all over again.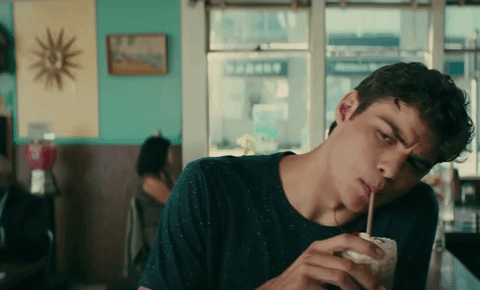 I guess I'll just have to be patient and wait for the sequel on Netflix… Or seek out more fluffy YA contemporary romances, which is a genre I never thought I'd be into.
I thought this was a perfect ending to the series. I love how much Lara Jean has grown in these three books. This was definitely a wonderful conclusion to her character arc. She went from being kind of a passive character to making her own decisions and taking risks that she never would have a few books ago.
Also, I still stand by my belief that Kitty is the best. I wish Jenny Han would write a whole series about Kitty growing up, because if she's this awesome at 10 years old, can you imagine teenage Kitty?! Or adult Kitty?!
I also take back everything negative I said about these books. I was pretty down on this series in my review of the second book, but I'm pretty sure that's almost entirely because I hated the audiobook. I think I have to revisit that one in physical format.
My only beef with this book is that they go to NYC on a field trip and Peter says that everyone there is so friendly and he doesn't understand why everyone thinks New Yorkers are jerks? Has Jenny Han ever been to New York?! I live very close to the city and everyone here is mean, and almost every time I go into the city I have a bad time.
Okay, I'm mostly kidding about that complaint (I'm sure there are some nice people in New York City, and maybe Peter got lucky), but it did throw me off. Plus, I've gotta have at least one problem with this otherwise perfect book, right?
If anyone has a recommendation for a similar series to read now that I'm done, please let me know. I'm begging you!